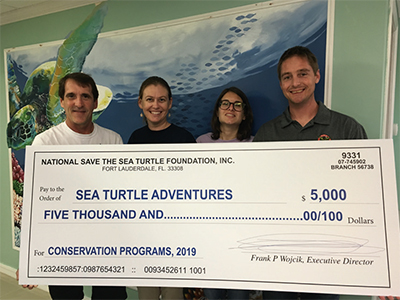 Dr. Larry Wood (left) presents a 'big check' to Jacquelyn
Kingston, Alessandra Schnirel, and Joe Kingston
in support of STA's programs.
One of the programs that makes STA unique is our iCare program. This one-of-a-kind program was specifically designed for adults with special needs who enjoy nature. The program began in November 2017 with seven participants and as of March 2019, the program has 53 members. The purpose of iCare is to enhance life skills through interaction with the natural environment. The group meets several times a month and helps paint sea turtle nest stakes, conduct beach cleanups, and enjoy adventurous activities including kayaking and boating.
STA has appreciated our relationship with The National Save The Sea Turtle Foundation (NSTSTF) since we formed in 2016. With support from NSTSTF, we were able to purchase a projector to launch our offsite educational program in early 2017 and in 2018 we were able to purchase a side by side ATV.